A Visit to the Makers of Leleshwa Wines
I wrote this over three years ago. A lot of the facts may be out dated, but I like the piece!
………. So, it's 11:30 am, we are by the side of the road just outside Naivasha town; a police man with my driving license in hand. Our appointment to visit Rift Valley Winery had been for 11 but clearly we weren't going to make it. I had opted to break a speeding limit, or two, in an attempt not to be tardy, but… Yeah… Here we were. I'm sure there's a moral lesson to be learnt somewhere there.
I picked up the phone and dialled "Emma's" number as instructed. I was to explain our predicament and push back our appointment further. As soon as she picked up the phone, I begun apologising vehemently like a kid that knows they've done serious wrong. However, all she was worried about was if we were alright and that we weren't in too much trouble. Despite having no idea who this Emma was at that time, all I could think was "What a star!" That was the first conversation I ever had with the impressive Emma Nderitu. Subsequent interactions have only proved to re-emphasize this.
Luckily, an overzealous lawyer with a much lower speeding infringement than mine had also been pulled over at the same time. She somehow managed to enrage the cops to the point that they let us off with a mere warning to avail themselves enough time to deal with her. OH HAPPY DAY! It seemed nothing was destined to ruin this perfect day. We were quickly back on the road, doing 30 k's below the limit. My day had begun at 4 a.m; excitement chasing away all shreds of sleep. "Since I am up, I may as well see what's out there about the farm."I thought…. or maybe I'd wanted to impress them with just how much I already knew…. Who knows; it was 4 and I couldn't go back to sleep… It could have been worse 😉 .
Their official website is a single page of their Shiraz Label with their email address at the bottom. I was rather intrigued; it gave this air of mystery and brass that "It's all up to you if you are interested." My search uncovered a vast array of press articles, majority of which was on their history. As to the people now on the ground and what was happening now, I hadn't the faintest idea.
Back on the road, we drove a little longer towards Nakuru before turning left into the Kenya Nut Company farm, the parent company to Rift Valley Winery. The guard at the gate directed us to not only drive the car through some chemically laced paddle, but had us walk through a miniature version as well. As there are cattle and goats on the farm, she explained, we all had to ensure we weren't carrying Foot and Mouth Disease in or out of the farm. At that point I paid no attention to the fact the guard was a she.
And here it was! In the middle of lodges, countless agriculture and horticulture farms and a lake, stood a fully functioning winery with some stunning equipment! I was impressed!   The first matter of affairs was, of course, an introduction to Emma, the Winery Manager (winemaker). Being used to South African wine makers who are normally big bulky men clad in stained shorts and brown boots, it was a real treat to meet a young enchanting lady at the helm. Her excitement for what she did was immediately clear. As a result, I rather enjoyed her in-depth description of the entire wine making process. With her background firmly in Biochemistry, she had been inducted into the profession by the talented James Farquharson (former winemaker at Boschendal) who'd single-handedly revived the Morendat farm (name of the site where vines are grown) from an appallingly destitute state. Over the few years he was in charge and despite constant adversity, he took the time to understand the unique site and devise a strategy specifically suited for it, instead of simply emulating processes employed in the more established wine regions of the world.
Impending incarceration having made us terribly thirsty, what followed next had to be tasting of the Leleshwa wines. We were offered their Sauvignon Blanc (SB) and Shiraz. The Rosé, we were told, was far from market ready. I am a big fan of their SB and what it represents; i.e. a locally produced great value for money wine. It offered pineapple and orange flavours, balanced acidity and a slight oxidative character, like an aged white, which gave it some complexity. The Shiraz was very quaffable with ripe fruit and light tannins.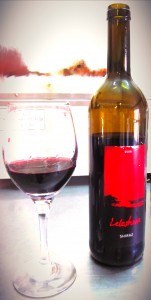 Afterwards, Emma passed us off to the passionate Christine Kasimu, the Vineyard Manager (viticulturist). She took us to the 40 hectare vineyards a few km's from the Nakuru- Naivasha road. Again James had played an unquestionable role in her current position. She was incredibly proud of the vines, but knew there was still some way to go. They had experimented with various varieties and had settled on SB, Colombard, Shiraz, Chenin Blanc and Muscat d'Alexandrie.
Kenya isn't particularly an ideal wine-producing region with its latitudinal location. Being literally on the equator means our climate remains relatively constant throughout the year. Vines require differing conditions at distinct times during their growing season to produce high quality grapes that translate into great wines. An example of this is that we don't experience winter at which time the vines become dormant in preparation for the next growing season. As a result, Christine and her team starve the vines off water and nutrients to force them into dormancy. Unfortunately, some vintages with erratic rain seasons could break this resting period causing an extra growth spurt resulting in two harvests in the same year as in 2010. Ordinarily, they would break the dormancy around September by spraying a compound (Hydrogen Cyanamide) to promote uniform budding.
Christine informed us that all their live imports (vines and yeast cultures) were sourced from South Africa while everything else (bottles and equipment) came from Germany. No phylloxera (an infamous root louse found in most soils across the world) was present in the soils but they had planted grafted roots stocks just to be certain. In the distance we could hear the energetic bird chasers hard at work. They'd spend day and night running across the vineyards with a whip in hand making noise to scare away birds and monkeys hungrily devouring the ripening grapes. Dedicated job I must say.
Click on the pictures to enlarge them. Another day well spent. I particularly enjoyed the moments where Christine and Emma would break into Kiswahili and Sheng (our local slang) talking about the wines. It gave some air of entitlement to this extraordinary Kenyan brand.  Big thanks to the quadruplet of women that made the day possible.   You can find Leleshwa wines in most Supermarkets and wine stores across Kenya. I'd like to see their wines sold in more restaurants by the glass. To get in touch with them you can either email them on info@riftvalleywinery.com or like their Facebook page http://www.facebook.com/pages/Leleshwa-Wines/456675264388327?fref=ts.
To read up more on wine production in East Africa check here.