Action Movie Steak Nights
I find myself awake. The red LED across the room declares it 5:05 am. It's been raining consecutively for the last 3 days and today should be the first break with an average of 22 degrees expected. Regardless, the temperature should only get into the double digits closer to 9 am, so I'm tempted to stay in bed a little longer.
I blink for a second and it's 6:30, still tonnes of time ahead. I blink again and it's now 7:30. The laziness is working its magic trying to get me to cancel, but I know this is the only day in the next two weeks that it could actually happen.
Reluctantly, I get out of bed and begin my stretches. 7 years back my leg could stretch much further, but alas unfitness (not age) is creeping in… Stretches done, a quick stop at a supermarket for some resources, and I'm standing at the foot of Devil's Peak at 9 am. What better way to clear your head than a gruelling hike?
Considering my lack of fitness, the hike itself isn't as much of a challenge as I'd have thought, however I failed to factor in the wind that makes it the most agonizing hike to date. It's been far from uneventful as two youthful dogs nearly maul me down just before their owner calls them back (I stood as they barked ravenously and charged thinking rather calmly "So what limb should I offer for the first bite as I viciously fight them off with whatever is left free?"); the European student I meet on the way up that I mysteriously never see again either at the top or coming back down; and the couple I stumble across unashamedly getting it on by the car park!
A cloud is almost constantly blowing over while I'm at the summit, which from below I've dreamt about being inside of for years, yet now in the middle of it, I can barely keep my sanity as my fingers lose essentially all sensation.
After an hour hiding in a rock enclave and staring into the most amazing view, when the clouds break, I begin to head back down consumed in thought again. For starters, what wine should I take to Pete's place later tonight? I know it needs to be something he has never had; and drawing inspiration from this outing and last week's tastings, it should be as minimalist or green as possible. Second, what could be the name of the incredibly fragrant bush I passed, that similarly to the grape is naturally capable of producing such depth, perfume and presence.
…Body aching, that satisfactory good work out type of way, I'm standing outside Pete's pad at 7 pm with a bottle of LJ Vintners Sémillon (our love for Sémillon based blends having sparked one of the many lengthy conversations we've had the two or three times we've met before) and tupperware holding my marinating steak. The door opens and I'm welcomed to my very first Action Movie Steak Night! 
Action Movie Steak Night turns out to be a tradition held whenever Pete's wife travels out-of-town. Everyone brings their own steak and a bottle of wine to be had as we sit down to watch an epic 80's or 90's action film. It's a celebration of the golden age of Action stars (think Schwarzenegger, Seagal, Stallone, Mel Gibson, Van Damme, Willis, Jackie Chan, Glover and of course Chuck Norris), wine and comradery!
The Sémillon is poured as we deliberate on the movie to watch and the steaks are fired up. Pete, his cousin-in-law Zach and "the couple" equally enjoy the wine as I did (check my tasting notes for it here). In between, Pete pulls out a guitar forged in the 40's and performs an impromptu "dabble", with Zach backing him up on the ukulele. Priceless!
Unanimously we chose Red Heat: Arnold Schwarzenegger in his prime cast as a stone faced Soviet, dishing out his classic one liners and ass-whoppings all around! We even turn off the subtitles for majority of the movie and make up our own dialogues when they break off in Russian.
In an unexpected pun, Pete serves up a 2010 Gouverneurs Reserve Red from Groot Constantia to go with the steaks. A four-way Bordeaux blend (A Bordeaux blend contains a mix of two or more grape varieties found in Bordeaux. For reds that is either Cabernet Sauvignon, Merlot, Cabernet Franc, Malbec or Petit Verdot. While for whites it is Sauvignon Blanc and Sémillon) that is drinking particularly well tonight. It is multilayered and delicious; starting off with juice dark berries such as blackcurrants and blueberries, followed by dried herbs, cloves and black pepper spice, with silky smooth tannins. I savour each sip, while the rest gulp it down in between cheers and laughter.
Before long, the bottle is done and Pete turns to his Three Bottle Rule where he believes by this point, no one cares or can actually appreciate the flavours of the wine. In which case he takes out a bottle from his everyday drinking stash to keep things moving. My palate is still tasting (I allege) as I enjoy the bright red fruit of this next Mourvèdre. It lacks the depth or character of the previous beaut, but is rather approachable and still holding together at this age. Good call. It's official though, I'm a perennially slow drinker.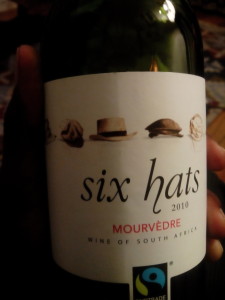 Bottle number 4 is a miss. It's rough and clumsy. No attempt at subtlety but rather over the top (with regards to use of oak staves and over ripe fruit). Nonetheless, it does the job remarkably. Good call yet again.
Ending the night, my psychological cat allergy kicks in thanks to Lorna: my right eye is swollen, and I fight the urge to rip it out. In addition my body is beginning to shut down as I keep dozing off. We call it a night… A good one at that.