Sauvies flock to Worcester
|
The talented and energetic Emma Ndetiru, wine maker at Rift Valley Winery (makers of Leleshwa Wines) in Kenya, had been "in town" for about two weeks feeding her insatiable need for knowledge to produce the best wines imaginable from the Naivasha based farm. Her days had been long; often getting to work/ training at 5 am and only leaving well after 6 pm. She was loving every long moment of it: it oozed from her aura. Luckily though, she managed to squeeze me in for a night that had promised to be paralytic-ally wine filled,… but turned out rather civilised 🙁 .
In the midst of all the catching up, tales of developments at the farm, and friendly banter, we managed to try two amazing Sauvignon Blancs that were worlds apart!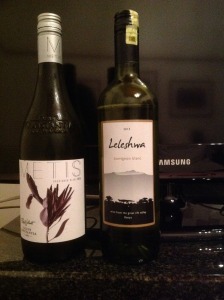 We started with the Metis from Klein Constantia (South Africa), which had been seating in the fridge while we went for dinner/ to respond to emails/ to read. Being the "wackiest" Sauvignon I had in my "cellar" (read closet), I thought it would be fun to try it with her and see if I could convince her, similarly, to go off the reservation with a few cases in the next coming harvest. A task I doubt was achieved…
The wine was naturally fermented over a lengthy duration at low temperatures, following which it was left on the lees for 10 months, with frequent stirring up (called Bâtonnage. Check out a video of it in action here). What a stunning wine that leads with a floral character, tied in with black currant leaf aromas. Behind this, you find fleshy stone fruits, a mineral core, balanced acidity and, for the first time, I picked up an almost creamy texture to it. It drank beautifully as the acidity was in perfect balance with the fruit, and had an invigorating complexity that kept enchanting the mind with each sip.
Intended to be my present, we decided to taste her latest release the 2014 Leleshwa Sauvignon Blanc in comparison. She normally, erroneously, thinks of me as a winesnob; which must have made this a rather painful ordeal for her 🙂 : expecting all manner of critics . What a sport she proved to be!
To the wine, this particular batch's grapes were sourced from a 5-year-old vineyard located 2,200 metres above sea level, on incredibly rocky soils. (Aside: Europe's highest vineyards are found at about 1,600 m absl.) The nose was forward with an abundance of bright and fresh primary fruit. I picked up Kiwi, passion and lemon. The palate was clean and steely with an underlying fig character. It too had balance and elegance, but was more fun, tropical and delicate. Couple that with a Ksh 453 cellar door price tag, and I believe it is incredible value for money; possibly that cannot be matched! I'm still not convince that she truly believes I adore her wine, regardless I've had her promise to reserve 2 cases of this batch that I shall savour repeatedly over the festive period…